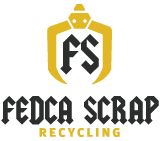 FEDCA SCRAP
Is a family owned and operated recycling company serving Tampa Bay and the surrounding communities since 2009. Our success is rooted on maintaining the highest environmental, ethical and customer service standards.
Fedca Scrap Recycling specializes in scrap metal recycling to businesses and the public while paying top prices to our customers. We understand that your time is valuable. On site, we have several dynamic cranes, forklifts, and personnel to assist our customers unload their material and get back on the road with cash in hand in no time. All our scales are state certified and calibrated on a regular basis.
Our team is dedicated to serving your recycling needs in the best way possible. We will continue working to improve and provide you with the best service possible and to make sure your experience at our yard is exceptional.